STANDARD CLAUSES, RECOMMENDATIONS FOR CURVED/BENT GLASS
The following guidelines are recommendations only. Prospective customers should satisfy themselves that products ordered would be suitable for their intended use.
We strongly recommend consultation with our technical staff prior to any orders being placed to avoid unnecessary delays in clarification of manufacturing detail.
TOLERANCES
Curved glass normally requires more tolerance in glazing and the amount required will vary depending on the size and type of curve. This is best considered at the design stage and we can only assume you have taken this into consideration. We strongly advise that you consult prior to an order being placed, as we cannot be held responsible once the bends are manufactured.
IT IS NOT RECOMMENDED THAT BENT GLASS BE PRESSURE GLAZED.
DISTORTION/BREWSTER'S BANDS
As with all heat-processed glass, there will be an element of visual distortion; this will obviously increase when the bending process is carried out and is more noticeable in large panels and on certain types of glass. We draw your attention to tolerances in glazing and manufacturing and the fact that with Laminated bends/Double Glazed curved units whether or not incorporating other curved glasses are used, we find in some instances the distortion and/or reflection gives rise to an appearance of 'Brewster's Bands' and/or bubbles in certain light conditions. However, it is our opinion that any distortion present would be well within commercial usage.
TOUGHENED GLASS
There are several characteristics involved in curved toughened glass, which we recommend be considered at the design stages to reduce possible difficulties at later dates. These include tolerances, and slightly increased seal depths in insulating glass units. These features can be easily accommodated in suitable framing systems; preferably using wet glazing methods.
Toughened curved glass estimates are priced on the amount of bends, their sizes and radii etc as a COMPLETE JOB, all made in ONE PRODUCTION RUN. Do not pro-rata any estimates given for other amounts or sizes or radii. If any changes are made, it is essential that new estimates be obtained. If an estimate becomes an order PLEASE REMEMBER to order any spares at same time, as RE-SETTING UP costs are expensive.
GENERALLY THERE IS GREATER OPTICAL DISTORTION WITH TOUGHENED GLASS THAN WITH ANNEALED OR LAMINATED CURVED GLASSES.
When assessing optical quality the pane should be observed under normal daylight conditions at a distance of 3 metres and the angle of observation should be normal
(90 degrees) to the particular glass surface being assed. Focus should be on an object 1 metre behind the surface being assessed. The pane will be deemed acceptable if the image is not readily distorted in transmission.
LAMINATED GLASS
Laminated glass bends are produced by the cast in place method using special resins to produce the interlayer and have a 6mm wide clear tape between the glass layers on all four sides. This is usually 'glazed-in' when using beaded applications and the like. The 'joint' line between interlayer and clear tape may be discernible when viewed at close quarters if silicone butt joints are used.
CURVED DOUBLE GLAZED UNITS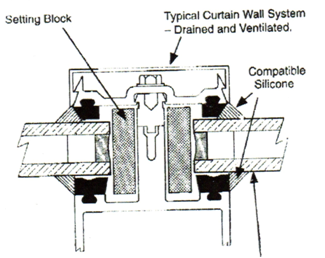 In the production of I.G. units, it is necessary that the edge seal depth be slightly increased relative to that of flat units. This increased seal depth (average 12mm for curved units) requires a higher up stand in the rebate. Since curved units are necessarily manually produced, the butyl and edge seal will not be totally uniform.
It is regarded as being essential that the glazing platform width is adequate to accommodate the general manufacturing tolerances. UNITS MUST BE WET GLAZED, USING COMPATIBLE SILICONE, FOR EXAMPLE A NEUTRAL CURING NON-ACID BASED COMPOUND. Pressure/dry glazing systems are not suited to this product, and should not be used.
To maximise the life of a sealed double-glazed unit, the preferred frame and glazing method must not allow moisture to collect at the edge of the unit seal.